I don't know who started the Sexy Halloween tradition but I do want to thank them. This time of year otherwise shy and conservative women decide to dress up like Sexy Maids, Hot Witches and Slutty Nurses! Hooray!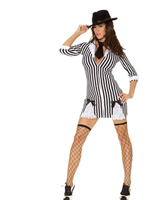 Wanna find the best deals? Why not check out Cute N Kinky Lingerie. They have a huge costume section and for some reason think this is a good time to put everything on sale. Seems like AFTER halloween would be better than before but then what do I know. If they want to give you a deal them let 'em! Get yourself something sexy and see how much trouble you can get into!
Just taking a quick look at their site shows a HUGE selection of all kinds of sexy costumes to choose from.  They have the traditional role playing favorites too. It's always fun to play dress up, right? The sexy school girl in trouble again with the head master, a naughty french maid just trying to do a good job for her boss or be the slutty nurse here to take your temperature. The holy trinity of role playing fun!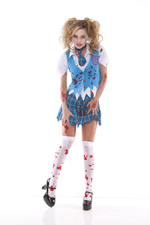 We found this little gem at The Kinky Stuff. They sell all kinds of kinky lingerie, leather gear and naughty accessories for some light bondage fun. They also have a great selection of kinky costumes. The Zombie School Girl has to be on somebodies kink list. They have it and it's on sale too. Actually, they have all their costumes on sale too. Seems like a thing I guess. Cool, save some cash while you get something sexy. What could be better than that? Apparently having sex with a Zombie School Girl…..