It's summer! It's hot and the heat is not going anywhere anytime soon. So, why not use this opportunity to get nawty and have some fun. Here some ideas for some sexy summer time fun! First thing you have to do is get ready to get sweaty. People tend to enjoy this more if they are younger so if you are getting to a point where sweating your ass off is not as much fun as it used to maybe we should find a few ways to help keep things cool while you make things hot. If sweating for your pleasure sounds like fun to you then by all means, prepare to get soaked!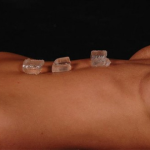 Ice is always a fun thing to play with in the bedroom on those hot summer nights (or days). Make sure to start slowly and don't just dump a bucket of ice on your partner. Also, be careful exactly how and where you put the ice. Start slowly and just barely place a tip of the ice cube on your partners body. Many people like to start at the belly button or around there. Not a bad place to start. As the ice melts and you become used to the cold sensation you can spread it around to more fun places on the body. Ice feels amazing on the nipples and not just her nipples. Guys get off on this too, IF they are into nipple play. If that is taboo for him then it might be a good idea to lay of the area.  Try holding the ice cube in your teeth as you caress the nipple with the ice cube. Then exhale your hot breathe around the ice cube with a low, sexy moan. Another fun thing to do with ice is let the whole cube melt on your partners stomach. The cold liquid will pool up on them and they have to lay very still to keep it from spilling. This lets you tease and torture them just a little before you move in and suck up the water off their skin. VERY sexy move!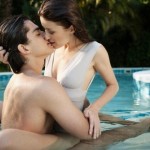 Sex in the pool always sounds way better than it really is. Fact is water is a terrible lubricant and sex just doesn't work as good in the pool. That doesn't mean you can't incorporate some playful pool time into your hot, sexy summer lovin. Ladies, if you have a private pool all to yourself or if you don't mind a little attention why not get a skimpy bikini that you wouldn't normally wear. Show some skin and tease a little. It's OK if you have a couple of body issues. I'm sure your partner knows all about them already and still thinks you're gorgeous and sexy.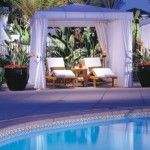 The idea is to show some confidence and be wild. You can't do this in January so take advantage of the season and live a little. Guys, why not setup some sort of Vegas style cabana next to the pool. Some place that the noisy neighbors aren't going to get a free show. A little effort goes a long way here. Cheap sheer curtains are easy to find at a store like HomeGoods or Anna's Linens and you can get an EZ Up Shade Canopy at Lowes or Home Depot for pretty cheap. Setup a bed, chase lounges or something like that with some soft lights, drinks and whatever else you can think of and you will be a god! Don't worry about what the neighbors can hear. I'm sure they already know you have sex, right?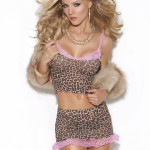 The BEST part about summer is that it's the perfect time to get naked! It's hot, who wants to be wearing clothes, right? So get something that is close to being naked and get this party started. You don't have to spend a ton of money either. This sexy little outfit from Cute N Kinky is under $20. You obviously have your own tastes an style so feel free to go look around and see what looks good to you. The best part about cheap lingerie is that you can get a few outfits and have fun all summer long. Experimenting with new things and variety are always great when it comes to sex in a long term relationship.
Sex should be fun, passionate, hot and steamy. Follow a few of these tips and your summer… and every summer after this will be a whole lot more exciting!