This Sunday is father's day again and all across the country dads will be opening presents their loving families got for them to say we love you. This means a flood of neck ties, power tools, golf balls  and other sporting goods they are going to be so happy to get. Well, maybe just the power tools. These are fine gifts from your kids but what does dad want from his wife this glorious day? It AIN'T no stinkin' neck tie I can tell you that! What your hubby really wants to get this Fathers Day is LAID! Not that hurry up the kids will hear us crap either. I mean like the good old days when you had to worry the neighbors would call the cops it was so wild!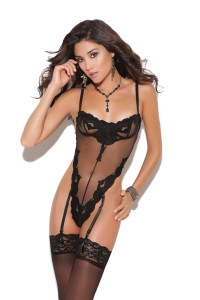 If you really want to give him the gift of love you really ought to find a way to slip this little number on and let him have fun taking it off you. THAT is how you celebrate Father's Day, Nawty Style!
You can find this sexy little number at HotWife Lingerie. Here is the link to it.
Embroidered Mesh Teddiette
Price: $29.07
It's Also Available in Plus Sizes
Embroidered Mesh Teddiette – Plus Size
Price: $29.67
Of course you can always find something else you think will drive him wild but you'd better hurry. Sunday will be here fast.